How long have you been producing music and how did you learn?
That's a difficult question - I made my very first track when I was in my last year of Sixth Form (UK high school) for a physics project. We had to record a sound and analyse the waveform on a free program called Cool Edit. I recorded myself playing guitar, then decided to overlay some other guitar over the top. This was my first ever produced track and I was hooked from that point onwards.
I started making 'actual' music (still using a free version of Cool Edit) when I was at university, mainly weird 12 minute long prog-indie tracks about certain television channels I disliked, then I joined my first band and became the default sound engineer and producer because I was the only one with any kind of rudimentary recording experience.
We recorded two entire albums on Cool Edit (and it's successor, Adobe Audition). Anyone with any experience of Cool Edit or Adobe Audition will understand what a tedious undertaking that must have been. This project (Bloom's Taxonomy) was born when I discovered and could afford Ableton, and I realised that there was a whole world of sonic possibilities that I had been denied during my Cool Edit days. I released my first music for this project in 2017. So in total, I guess I've been producing music in some form for 15 years.
What DAW(s) do you use and why?
Now I exclusively work on Ableton 10 (although I do still have a soft spot for using Adobe Audition for clip editing). There's always debate in various sad, dark corners of the internet and among my musical friends about the merits of various DAWs, but I find Ableton the most simple and intuitive. Plus I perform my music live, and Ableton was designed for live performance, so it's the only choice for me really.
What are your favourite pieces of gear and why?
My musical background is as a guitarist, so I'll always reach for my guitar to figure out a chord or a melody. However, I love my Novation Launchpad Pro. Once you learn how to play it as an instrument, it's a wonderfully expressive keyboard, drum machine, sequencer, you name it. I use two of them when I play live, one to record loops and launch scenes, and play one as an instrument. I love the fact that it lights up when you touch it too. It has all the functionality of a 5-octave keyboard and it fits in my backpack.
I have a rule about playing live: if I can't carry it on my body, it's not coming to the gig. In terms of one piece of equipment that transformed my entire musical world, my AKG K702 reference headphones have done wonders for my mixing skills. To any producer who hasn't invested in a good set of studio headphones, I can't recommend it enough. The only problem is that it made me realise quite how bad my old mixes sounded.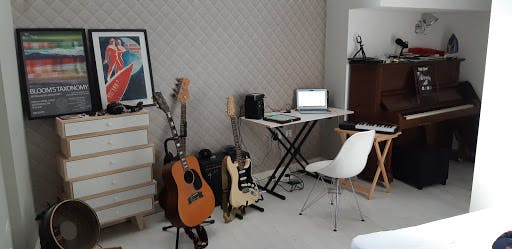 What are your favourite software plugins and why?
I'm not a big plugin collector. When it comes to sound design, I find the built-in tools in Ableton such as Wavetable and Tension to be the most intuitive and I can most quickly approximate a sound I want in my head. Unlike some producers, I like to keep my options limited, I find it makes me more creative.
When it comes to mixing and mastering, however, I want a rich, warm sound. I've recently discovered the Waves Abbey Road TG Mastering suite. I loved it so much, it made me go and re-mix and re-master my entire back catalog.
For live performance, I couldn't live without a plugin called ClyphX. It doesn't do anything to your sound, but it does allow you to program the Ableton session view in special ways to make performance a lot easier, i.e. tell it to automatically record clips to a certain length, or switch on or off different effects or instruments when you trigger different scenes.
How would you summarise your approach/workflow when creating a track?
I normally start with a single loop or sound, roughly sketch out a structure or a progression using it, then build around it. My composition process is more like painting a picture than anything else, I add layers, take layers away, move things around until it feels about right. Then I fiddle incessantly for the next few months until I realise that it's not going to get any better.
For my last EP, Bitter Lake, a lot of these starting points were recorded on my phone from an old honky-tonk piano I have in my studio. I like recording on my phone - you'd be surprised at the quality of the recordings you can get from it and it immediately sounds like it inhabits a space. I recommend it, maybe not for commercial pop, but for anything that needs a bit of atmosphere. As you can probably tell, I'm actually not a massive fan of the overly clean studio sound. I read somewhere that Kanye West records a lot of his vocals on his phone while he's out jogging… and these aren't demos - they actually end up on the album.
What resources do you use to improve your craft?
Trial and error! I mainly use online tutorials to overcome technical difficulties or learn how to use new plugins or kit, but I don't really seek advice when it comes to composition or how things 'should' be done. You can probably tell that by listening to my music, for better or worse.
For me, the most valuable learning experience in terms of perfecting my craft has been collaborating with others and performing live. Performing something live really makes you think about the track in a new and detailed way, and highlights exactly which elements you need and don't.
You can also see in real-time whether your audience is bored by a particular section of your track. Working with others gives you insights into other ways of working and can really inspire you into new ways of thinking, especially if your collaborator works in different genres.
What is the last YouTube tutorial you watched that you would recommend to other Re-Ex Members?
This one was extremely useful for helping me set up TouchDesigner with Ableton, a program that I use to do my live visuals. 
What knowledge or advice do you wish you'd learned earlier?
How important having a decent set of headphones/monitors is when mixing and mastering! As I said before, this has completely transformed my music production. I used to keep adding elements in order to 'fill out' the sound, but really I wasn't mixing it right to get the sound I wanted.
Having a good monitoring setup has allowed me, with new material I'm working on, to really pare back the layers and focus on making the elements that are there work better sonically.
What challenges related to making music do you face and how do you overcome them?
My day job is very tiring, so I often don't have the energy to be creative when I get home. However, I do have good holidays, but sometimes they don't necessarily coincide with a period of creativity. When I do have the time and I'm not feeling creative, I don't get too stressed about it.
I rarely sit down and think 'I'm going to make a track', and then beat myself up if I can't come up with anything. When I'm inspired, I'm inspired. If I'm not, I'm not. If I want to do something musical, I can work on a mix, or practice a live performance, or work on some visuals for my live show.
Can you share any killer tips or techniques?
Always high pass every track at 100hz except the drums and bass. It'll make your mix sound clear and booming. This is basic stuff for any sound engineer, but a lot of producers don't know the basics of mixing and mastering. It'll help you in your production to learn some of this stuff. 
Do you try and get feedback or suggestions to improve your music?
Yes, and it's something I've only started actively seeking in the last couple of years, but I wished I'd started earlier. Previously, I made music for me, and if anyone else liked it, then great. But I also started performing live again, and you can't help but respond to the live feedback you get from your audience.
You can tell when they're starting to get restless or bored, or when they're really engaged in what you're doing. It made me realise that there are certain tracks that the audience always really seems to like. That made me curious as to what others think and how I could make my music more 'outward-facing'. So, I joined a website called how's my track? where you submit your track and you get put into a group with three or four other producers, and you give each other anonymous feedback. I got some really good advice from contributors there, and it's really helped me hone my craft.
I've also built a network of other electronic musicians in London through a night called 'Electronic Music Open Mic' which I do visuals for. I ask them to listen to new stuff I'm working on, and get their thoughts.
Which track are you most proud of and why?
In terms of production, I'm most proud of 'Bitter Lake' because I think it sounds like it was recorded at Abbey Road with a full orchestra (you might disagree, and it wasn't by the way). Compositionally and emotionally, I think I've made some great stuff that is yet to be released, so watch this space.
Has RepostExchange affected the way you make music? If so, how?
It hasn't changed the way I make music, but it has definitely helped me reach people and find an audience for my music. I'm by no means a massive 'hit' on SoundCloud, but before I joined, I had about 20 followers. I now have close to 500. It also gave me the confidence to start marketing my music to a wider audience, which I am starting to think about now for my next release, but that's a whole other rabbit hole to jump into.
Desert Island Gear (top 5 software or hardware)
Interesting question! During this lockdown period, I've ended up living in a place that isn't my usual home without my usual studio. I've had a take a very basic 'lockdown' studio with me: