How long have you been producing music and how did you learn?
I've been producing for about four and a half years now. I first downloaded FL Studio in early 2016. I learned by just watching YouTube videos, including a lot of videos by Zen World. I didn't know any people that were also into producing, I got into it simply because I fell in love with electronic music. So it was just me and YouTube for a while until I joined Icon Collective School of Music, from which I recently graduated. There, I was able to learn from a diverse and very experienced group of professionals as well as connect with other producers with the same passion as me. We still continue to help each other learn and improve every day.
What DAW(s) do you use and why?
I started with FL Studio but at Icon Collective they teach you Ableton Live so now I only use Ableton and I love it. It's a whole different experience being taught a DAW by experts than learning it on your own, so I quickly became more comfortable with Ableton than I ever was with FL. Both do basically the same things, but I feel like Ableton stock plugins are a little better.
What are your favourite pieces of gear and why?
I don't have tons of gear but the favourites I guess are my XPS 15 Dell laptop and my AKG K240 headphones. The laptop is basically made for gaming so it has all these features that are super helpful for music production. When I first started producing I was using the cheapest Dell laptop, and even used it though most of Icon. I saved to be able to upgrade to a nicer one but didn't want to change to a Mac and have to learn a whole new system and the keys. I love everything about my laptop.
As for my headphones, they are semi-open, so they are great for mixing, and I like mixing my tracks as I produce them. They are really comfortable and I'm able to wear them for hours. The ones I had before hurt my head after not even an hour of using them. Other than that, I have some KRK Rokit5 speakers which I love, as well as a Behringer audio interface, a midi keyboard, and the cheapest decent mic I found, but I don't use the last two super often.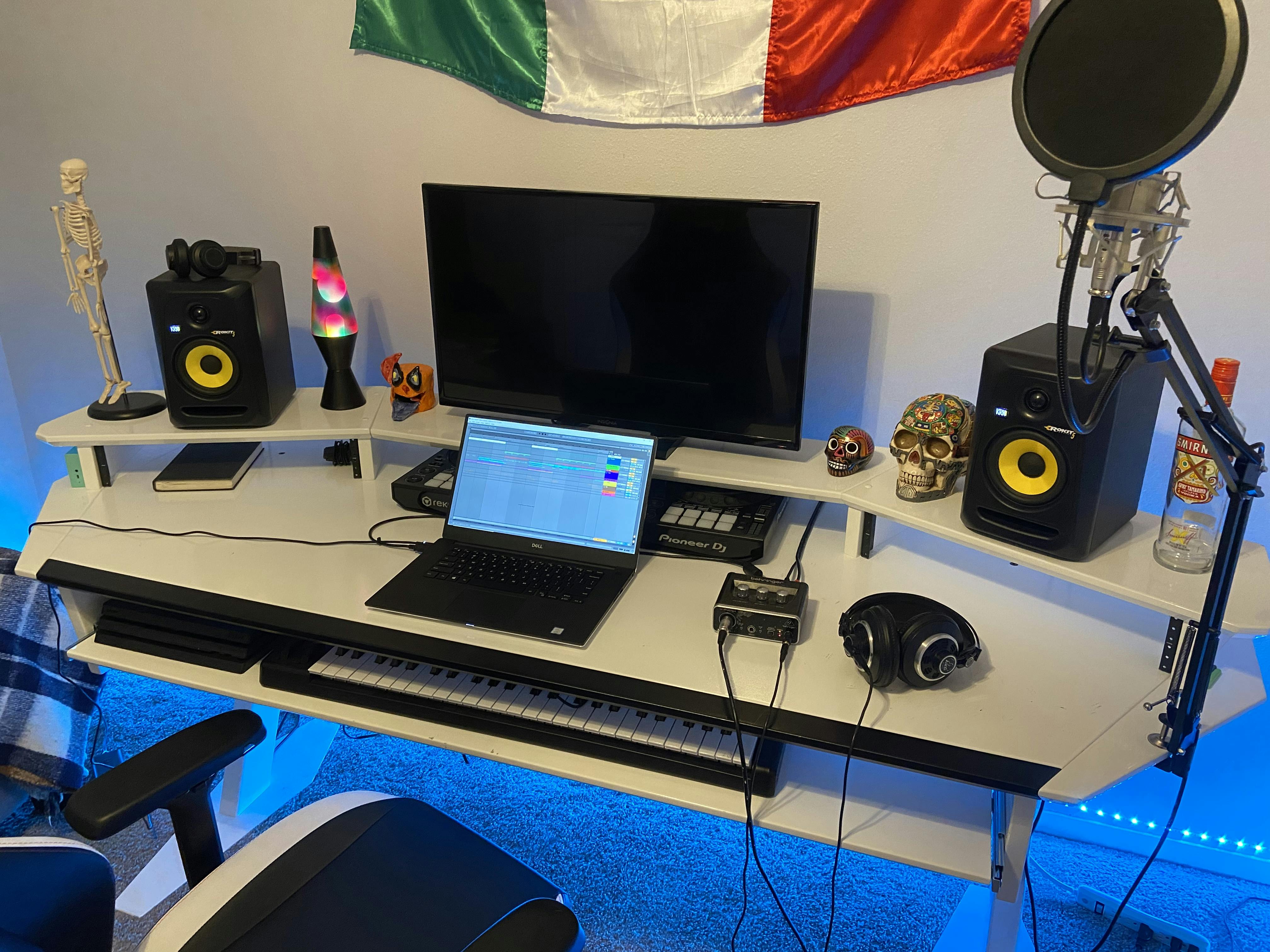 What are your favourite software plugins and why?
As far as Ableton stock plugins, I love the saturator and the reverb! But for third-party plugins, definitely Serum, since I use it in every song for a lot of the synths/basses. It was the first plugin I bought and I like that you never stop learning new things on it and you can do all kinds of things on it. It took me a long time to even realize you can make automations for knobs in Serum.
I also love Ozone, which I use for mastering. Mastering is so hard to understand, and Ozone looks kind of overwhelming at first but once you learn the basics it is very helpful. One of the plugins that I got more recently is Exhale for Kontakt. It has beautiful sounds that are ready to use, but I like to resample presets from it (turn them to audio) and then mess with them to make them sound cooler and different. I don't think any of the songs that I have out right now included any of those resampled sounds, but the new stuff I'm working on does and it is amazing!
How would you summarise your approach/workflow when creating a track?
Sometimes I start with drums, sometimes with some simple piano chords, sometimes with a cool loop or a vocal sample I find. If I'm not feeling inspired I dig for new samples in Splice. I'll often hear something that sparks an idea in my head. Sometimes I download that sound and use it, and sometimes the idea does not include that sound I just heard but it served as inspiration.
The element I start with always changes, but I've realized it's easiest for me to finish a track and make that track flow smoothly when I create it from start to finish (so breakdown, then build, then the drop). When I start with the drop sometimes I have trouble coming up with what should come before it and get stuck.
Once I get the main song idea down, I imagine what the sections are gonna look like and label them. I put markers where I might want the rest of the sections to start and end. For example, if I have the first break, build and drop done (very roughly) I go ahead and mark the intro, the second break, build and drop, the outro, and any other weird section. That way I know the arrangement of the track very early in the process. At the same time it is not set in stone; sometimes I change the sections once there is music in them.
Having the markers just helps me as a map to finish the song. It's also important for me to keep things organized. I have colour coded groups and always have an EQ ready in every channel to quickly cut off lows for the sounds that don't need them, which is most of them.
What resources do you use to improve your craft?
Lately, I haven't watched many tutorials. I've been putting a lot of time into actually making music and when I have a song 90% done I send it to a few Icon friends for feedback. They also send me music sometimes and I give them feedback. If I do go on YouTube though, I like watching how famous artists make their music. For example, how Finneas made a certain song, watching Kenny Beats make a beat, or watching 'Deconstructed' on the Genius channel to see how some of my favourite songs were made.
I love that on Twitch there have been some EDM artists showing their process or giving feedback to other people's music. That's all very helpful too! In the past years I've watched a ton of tutorials and even went to school for music, so today the best and most fun way for me to keep learning is to create more!
What is the last YouTube tutorial you watched that you would recommend to other Re-Ex Members?
I love this video where Finneas shows how he made a bunch of Billie Eilish's songs and a few others. It's so cool seeing how a producer as talented as him uses real-life sounds and learning about his workflow. The way he thinks about music is so interesting. You will most likely learn something new from this video. If not, you will at least feel super inspired!
What knowledge or advice do you wish you'd learned earlier?
That anything you do or plan on doing and achieving is going to take longer than you think.
What challenges related to making music do you face and how do you overcome them?
The biggest challenge for me is to not compare myself or my music to other artists and their music. There is a lot to learn from critically listening to music from your favourite artists as well as other artist friends you might have. But you have to pay attention and learn what works and why in their music without asking yourself if it is better or worse than what you are making. There is a really fine line between referencing other people's music and comparing yours to theirs. This goes together with the problem of comparing your success to that of others.
We are all on different paths so it's not fair to compare yourself to others. Writer's block for me comes from this. Even if you are subconsciously comparing yourself or your work. I have to remind myself sometimes to stop caring and to just have fun and trust myself and my creativity.  When I get in the flow or in the zone, I have the best time and that's when I create music that I love. Mental things like this are difficult to deal with and it takes practice to overcome them. This the most annoying challenge I have but I'm definitely doing better at it now than like a year ago.
Can you share any killer tips or techniques?
A killer tip that I received while at Icon was to have a template for your DAW! If you open a new project and you already have your groups and channels sorted and colour-coded and all the settings, levels, etc. are set up the way you like them, it will be much easier to create songs. This tip, combined with imagining and marking the sections of the song was a game-changer for me. It allowed me to turn 8 bar loops into full songs instead of getting stuck in them. When you have a template you can see all the sounds you need to complete a song. You basically just have to fill in the blanks with your creativity.
However, I never use every channel that is part of my template and sometimes I add new ones, it depends on the song. It's not set in stone, especially because I make different styles of music, but it is a really helpful general idea of the sounds I will need to have a complete song. To make yourself a template, just look at all your past projects and notice what they all have in common and start there. As I learn new things and evolve my workflow, my template also changes.
Do you use any online tools to assist with the production process?
Splice is the only online tool I use. I get a lot of samples from there. Sometimes I use them exactly how they are, sometimes I use a little piece, sometimes I turn them into something completely different, and sometimes they just serve as an inspiration and don't even use them. Another cool thing that I've done a few times when I had trouble starting something cool, is to find a loop on Splice and copy the rhythm with a different sound that I make and start from there.
Do you try and get feedback or suggestions to improve your music?
Yes, as I mentioned earlier, my Icon friends and I send each other music for feedback. We have a group chat where we sometimes send private links for everyone to listen and give their thoughts on it. Also, I can always count on my future self to give me feedback. After I release a song I listen to it with different ears and usually hear something to improve that I didn't hear before putting it out. By that point, it's too late to fix that specific song, but I learn from it to make the next one a little better.
Which track are you most proud of and why?
The song I am most proud of is not even out yet! But out of the ones I have out right now, I will go with 'Til the Pain Goes'. I learned so many different things while making that song and it was the first one where I recorded myself. There are a couple of sounds in there that were actually made with my voice and then processed a bunch. Also, I love the dark vibe and it's a banger. I played it out on a few DJ sets before the pandemic and it sounded sick on the big sound systems.
Has RepostExchange affected the way you make music?
I love that I found it and I am able to share my music with more people and see that they enjoy it as much as I do.
Desert Island Gear