How long have you been producing music and how did you learn?
I learned by myself for more than 10 years, I think that learning by yourself is the best way to let the creativity flow.
I was an art student back in the days, and I was into design before CAM. The processes are quite the same, using layers, adding effects, so I found in the music production another way to create and express myself. Producing music is making mistakes, being always in search of trying new things, improving your routines, finding solutions when you're stuck on the same problem during hours, days or weeks! Or simply start a session again from scratch because of the computer crashes! And I love this process.
What DAW(s) do you use and why?
I use Logic, I simply love the interface.
What are your favourite software plugins and pieces of gear?
I use this setup when I'm producing at home: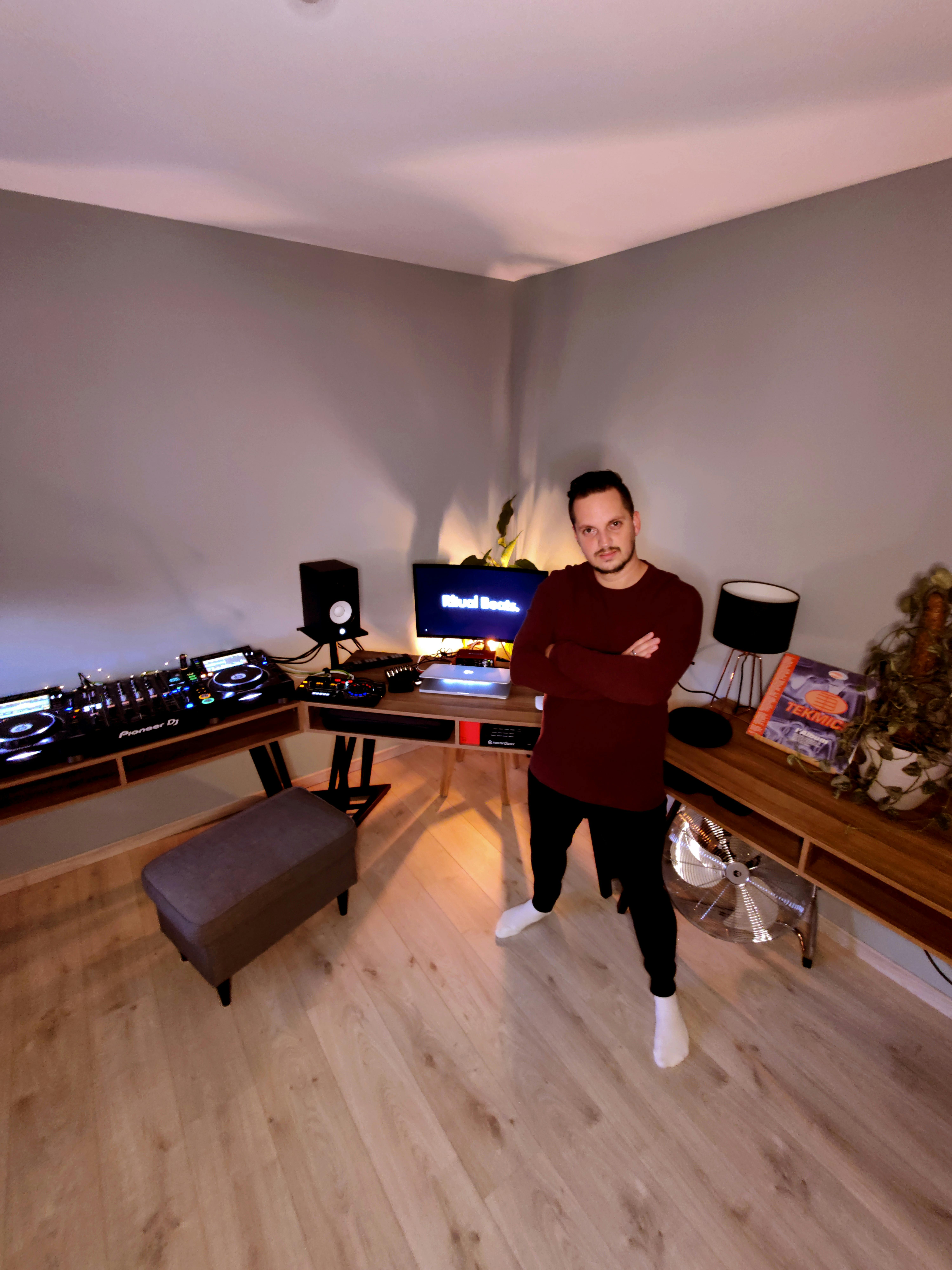 How would you summarise your approach/workflow when creating a track?
I've been so much stuck working on loops for hours (and for nothing because I didn't keep them most of the time) that now I'm not working with the idea of finalizing a track from A-Z.
I produce without any pressure at all in no particular order in my session elements. So I accumulate loads of ideas, and sometimes I spend just time digging in my old ideas when working on new projects.
What is the last YouTube tutorial you watched that you would recommend to other Re-Ex Members?
The one I'd recommend to Re-Ex members is this one from Boston Bun.
What knowledge or advice do you wish you'd learned earlier?
You can't do everything by yourself, so surround yourself with people with the same state of mind and help each other.
What challenges related to making music do you face and how do you overcome them?
I use my phone, it helps me to get my ideas in one place. It can be a sample, a melody, lyrics, a track I've listened to, even some track names that I find randomly.
With the Covid-19 crisis, and not being able to perform didn't help myself to focus as much as I wanted on music.
I didn't want to be under pressure at all, I have some tracks coming up for sure but I don't rush things.
Can you share any killer tips or techniques?
Eat healthily and sleep as much as you can. Don't produce late at night and switch off your phone during sessions.
Do you use any online tools to assist with the production process?
I use Splice a lot, it helps me to add cool stuff in my tracks.
Do you try and get feedback or suggestions to improve your music? If so, how?
Yes I think we're all in the same case, having DJ friends who send you music on a regular basis is important, giving feedback is always appreciated, then they do the same, sharing is caring!
Which track are you most proud of and why?
I'm not proud only of my music but also the music from other producers I play in my sets, or my weekly radio shows Ritual Beats or my releases on my own label also called Ritual Beats.
Releasing tracks under the Templar moniker is something new and really started in 2020 with Let Me Tell You and What You Want.
Has RepostExchange affected the way you make music? If so, how?
I know RepostExchange for a while, it helps a lot of talented producers getting heard and it gives opportunities afterwards to build a strong profile amongst other producers when it comes to structuring your social networks.
Nowadays statistics and branding are as important as the music itself in the success of a musical project.
Desert Island Gear