How long have you been producing music and how did you learn? 
I started out DJ'ing in the late '90s at Middlesex University & Bagleys Film Studios. I tried making music back then with Cubase and a keyboard but the stuff I made was awful! Later I started to experiment with GarageBand on the iPad - I found the touch screen to be the most effective tactile way to connect with the instruments and loops. I have spent years playing with it just for fun and would save the stuff I made. When I decided to finally make some music I already had 20-30 demos that I revisited to see what sound I could use.
What DAW(s) do you use and why?
I make all my music with GarageBand on an iPad and do some pre & post-production using Audacity on my PC.
What are your favourite pieces of gear and why?
Apple iPad, plus Audio Technica AG1 headphones because I can make music anywhere and at any time! My Bumblebee professional cardioid USB mic - works with both my iPad & PC so good for recording when out or at home! The NVIDIA RTX Voice has unbelievable noise cancelation using AI. Finally, Audacity, great for slicing up your tracks when building loops, and also has some nice effects.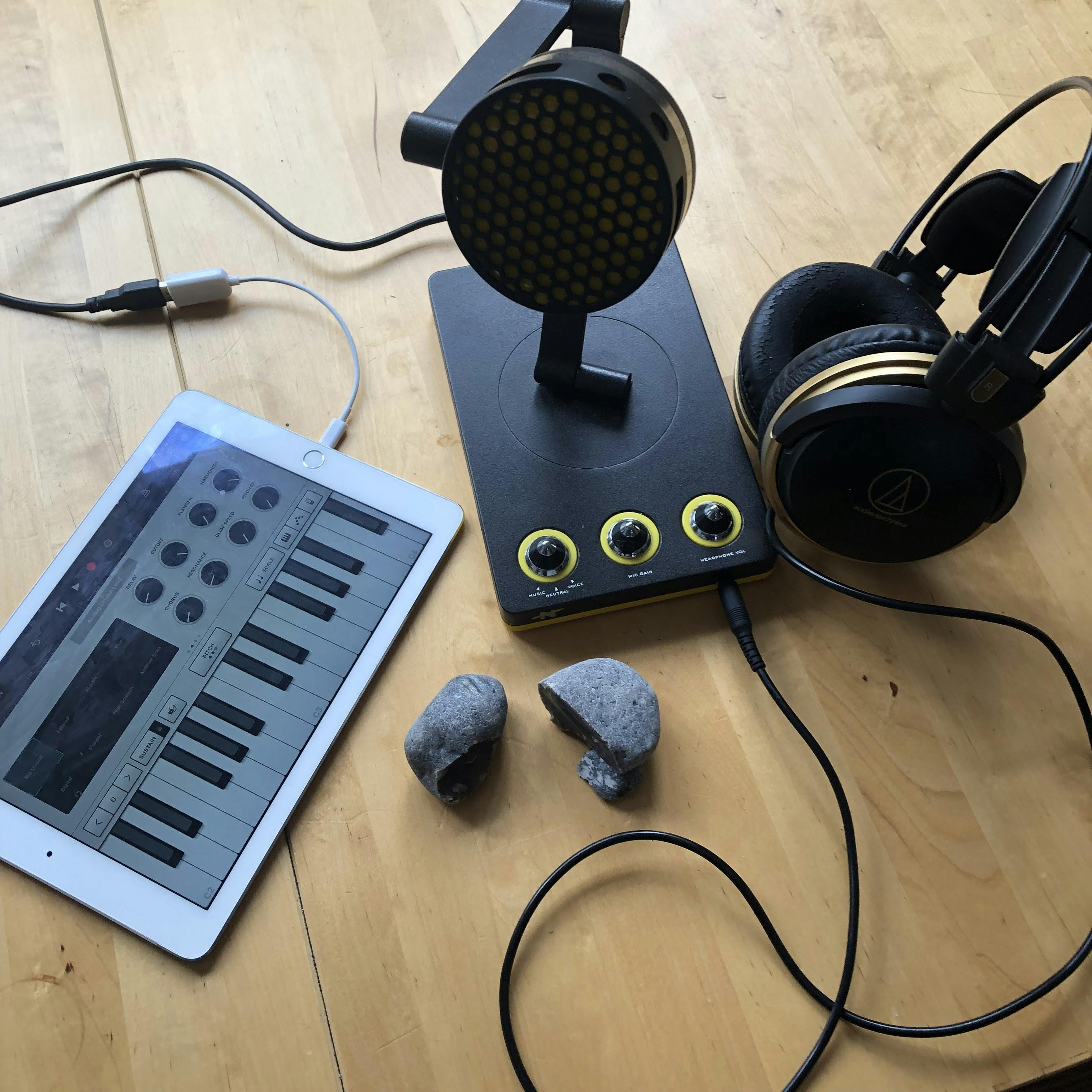 What are your favourite software plugins and why?
So far I have not used software plugins - I prefer to make my music by layering and cutting up sounds.
How would you summarise your approach/workflow when creating a track?
Some tracks I start out with a very clear idea of what I want to make, other tracks I will just play with different sounds and uncover something special. I start out creating that sound (and variations of it) - then I take those loops and play around with them (just like a DJ mix set) - after that, I listen to what I have recorded and cut it up again - taking out the bits that I don't like and looping the stuff that works. Then I'll play it back and start adding layers of sound. Once the main part is done I try to leave it alone for a day and come back for a listen - then I will make adjustments.
What resources do you use to improve your craft?
I prefer to play around and experiment by myself. I generally avoid tutorials as I want to maintain my own unique sound and not be influenced by others - however, if I hear an effect that I like I try to recreate it on my own (and sometimes get a completely new sound).
What is the last YouTube tutorial you watched that you would recommend to other Re-Ex Members?
This one!!! If you have an NVIDIA card this uses AI to provide perfect noise cancellation for your vocal recordings!  
What knowledge or advice do you wish you'd learned earlier?
Believe in yourself and also that you don't need to spend lots of money on a studio to make good music!
What challenges related to making music do you face and how do you overcome them?
I am a single parent so my time is precious - I generally do my writing in the late evenings-night and early morning.
Can you share any killer tips or techniques?
Play around with your sounds like a DJ set, experiment without fear, and record what you are doing... who knows, you may unearth something special.

Do you use any online tools to assist with the production process?

I have used SoundCloud's Dolby mastering service for some tracks.
Do you try and get feedback or suggestions to improve your music? If so, how?
By connecting with fans and fellow artists through SoundCloud and RepostExchange!
Which track are you most proud of and why?
That's a tough one. Two of my top three tracks are collaborations with Masayuki Sakasai, 'The Darkest Day of Disco featuring First Light', which was our first collaboration. I listened to his track and wanted to make an evil alternative - please have a listen and tell me if I succeeded!

Has RepostExchange affected the way you make music? If so, how?
It has inspired me to make more music - I have produced so much material over the past few months!
Desert Island Gear