How long have you been producing music and how did you learn? 
I've been DJing on and off for roughly eight years. I first felt inspired to DJ after coming home one day from school and turning on my TV to soon discover the Music Choice channels featured on Verizon. Curious enough, I wanted to see exactly how many different channels and genres of music were featured. When I came across the Dance/Electronic channel, my whole perspective on music had changed. Discovering EDM for the first time, I was mesmerized by its sound, as it was finally something other than the same old repetitive songs played on the radio every single day. From then on, I started discovering popular DJs and EDM producers who were featured on the TV channel – Avicii, Tiesto, Nicky Romero, and Steve Aoki (to name a few).
Inspired by the mentioned DJs, I wanted to learn how to DJ and produce music. I discovered and downloaded VirtualDJ 7 to my computer, and of course, I had no idea what I was doing. I soon started to pick up on how the software functioned by pretty much just playing around with all the settings and features, and seeing what each of them did. I wasn't the type at the time who was able to learn how to do things based on just YouTube tutorials.
DJing was something I wanted to explore on my own, as I believed teaching myself would make me a better DJ than if I were taught by YouTube videos and other online sources and only picking up a fraction of what I watched. Over the years I took a few long hiatuses on and off from DJing to focus on school and other things going on in my personal life, but it wasn't until 2020 when COVID-19 hit that I started to pick things back up on a serious note and decide to make my music career public, which was also when I was introduced to RepostExchange. During quarantine, I utilized GarageBand to produce my own music and make mixes and mashups and used VirtualDJ 7 for basic mixing. In July or August of that same year, my dad gifted me my first controller, the Hercules DJ Spotlight, to practice real hands-on mixing with, and to bring to college.
When I got to college, I started DJing for my friends at parties and have been doing so ever since. I still make mixes and mashups which I upload to SoundCloud and YouTube. Recently, I've been wanting to pick back up on my music production skills and entered a remix contest in August which allowed me to do just that, and I released my first public remix that same month. Now that I'm back at college, I'm just doing my best to balance out time between music and school. I'm currently taking a college-level digital music technology class which I hope to learn a lot from.
What DAW(s) do you use and why?
GarageBand would probably be my DAW of choice. Before having to quarantine from COVID-19, I took a digital music technology class during my senior year of high school, and GarageBand was the selected DAW that was taught to the class. I started to really enjoy using GarageBand for music production because I liked how it gave me the option to use premade loops and the ability to write and produce my own sound using the various instrument options offered – I was able to blend both the loops and my own written music to create a nice blend of sounds. I would also use GarageBand to sample mixes and mashups that I had in mind. The more I used the software, the easier it got for me to discover more potential skills I had with producing music.
I've been wanting to try Ableton 10 Live for a long time, but have been satisfied so far with GarageBand.
What are your favourite pieces of gear and why?
I can't really say that I've used a lot of gear for music production-related purposes, but I can say that my favorites would be my laptop and my Hercules DJ Spotlight controller – they've helped me kick off the continuation and publication of my music career and they are the only pieces of gear I've used. It would be nice to get my hands on a real-sized controller instead of the small one I use, but for now, the Hercules DJ Spotlight controller will suffice.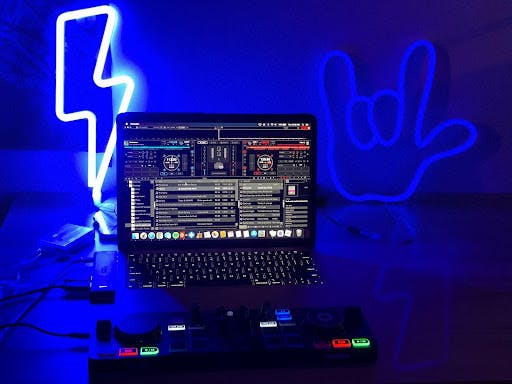 What are your favourite software plugins and why?
Surprisingly, I've never experimented with or used any outside or third-party plugins that GarageBand doesn't offer. I've only used its native ones.
How would you summarise your approach/workflow when creating a track?
When an idea comes to mind about creating a track, I'm usually not in front of my laptop to then just create what's being created or played in my mind. I try my best to remember what I want to produce, whether it's a song I want to write or a mashup/mix I want to make and put it together when I have the opportunity to. If I come across a mental block, I try my best to stay patient and think of ideas to come around it, or take a break and work on the project another time.
What resources do you use to improve your craft?
I use the music technology class I took in high school, and am using the one I am taking now for guidance on improvement. I also use YouTube to look up tutorials or explanations on anything I need help with or want more guidance on.
What is the last YouTube tutorial you watched that you would recommend to other Re-Ex Members?
What knowledge or advice do you wish you'd learned earlier?
I wish I didn't take too many hiatuses away from DJing when I was younger. I feel like if I hadn't done that, it would have motivated me to keep at the grind and just make me a better musician, overall. It could have also meant more opportunities to go public and share my work with a bigger audience, which would have possibly made my name more well-known. Staying committed to what you feel passionate about can go a long way, but it also takes patience. You don't release a track and become a billionaire overnight, and no one should expect that to happen either. Success takes time, and that's something very important to understand when having a desired goal to reach.
What challenges related to making music do you face and how do you overcome them?
Writer's block and time constraints are my two main struggles. If I don't have any music ideas, it prevents me from doing anything. Aside from being a musician, I'm also currently a student-athlete in college, so I have to balance out time with schoolwork, sports, and music, which is usually very difficult and also puts a halt in allowing me to continue making music content.
Can you share any killer tips or techniques?
Always be sure to give yourself time to really listen for any possible flaws included in your projects, whether it's related to audio, sampling, effects, etc. You could listen to a track a couple of times around without feeling the need to change or adjust anything, and then find something to change or adjust the next day or after you have already released it. Giving yourself time to listen carefully to your work and fix any flaw you can find will make it better prepared for the public, and probably more enjoyable. If you're not satisfied with how your projects sound, they aren't ready to be released.
Do you try and get feedback or suggestions to improve your music? If so, how?
I look up to my Dad and his music colleagues for advice. My Dad is in a band and he's been very involved with music and music production ever since he was a teenager. I look to him for any advice or suggestions on how to improve my production skills.
Which track are you most proud of and why?
This would have to be between the remix I made of the song All On Me by Tchami ft. Zhu, or my most popular mashup, Somebody to Love x Heads Will Roll (Jefferson Airplane x Yeah Yeah Yeahs). That remix was the first remix that I ever produced and published, so I find it to be an exciting landmark in my music career. The mashup mentioned is my favorite and most popular track, currently accumulating almost 7,000 views on YouTube. Both have received lots of positive feedback and it makes me happy to know that and keeps me motivated as a musician as well.
Has RepostExchange affected the way you make music? If so, how?
Definitely. RepostExchange has helped publicize my music career to the thousands of users who also use it to share their own content. My music wouldn't be as well-known without the help that RepostExchange has offered, and my career as a musician would be less of what it is now. It has helped me stay dedicated to music production and connect with other music artists who also want their names to be heard.
Desert Island Gear