Feedback Campaigns
Get real feedback from real artists
Get honest feedback on your music or earn credits while helping others
Honest & detailed

Detailed feedback on topics you choose

100% Private

Feedback remains between you and responders

For new or established artists

Feedback for those starting out or reaching the top of their game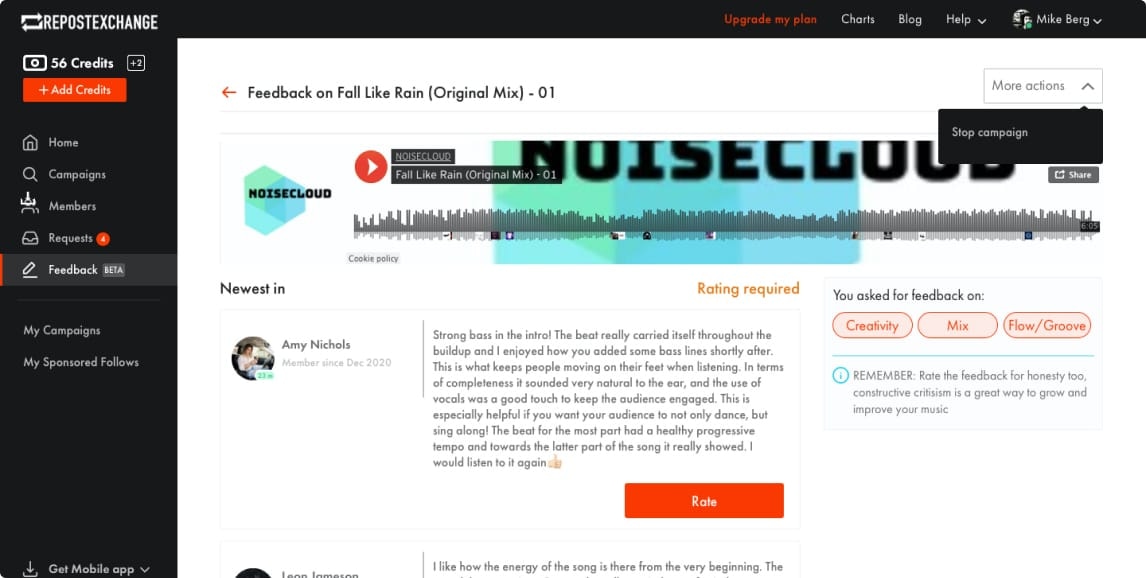 Get feedback & improve your music
Get detailed, constructive, specialised feedback from your peers
Create campaign in seconds - simply choose track, budget and topics!
Receive 100% private feedback on your tracks
Choose private or public SoundCloud tracks, full songs or works in progress!
Get started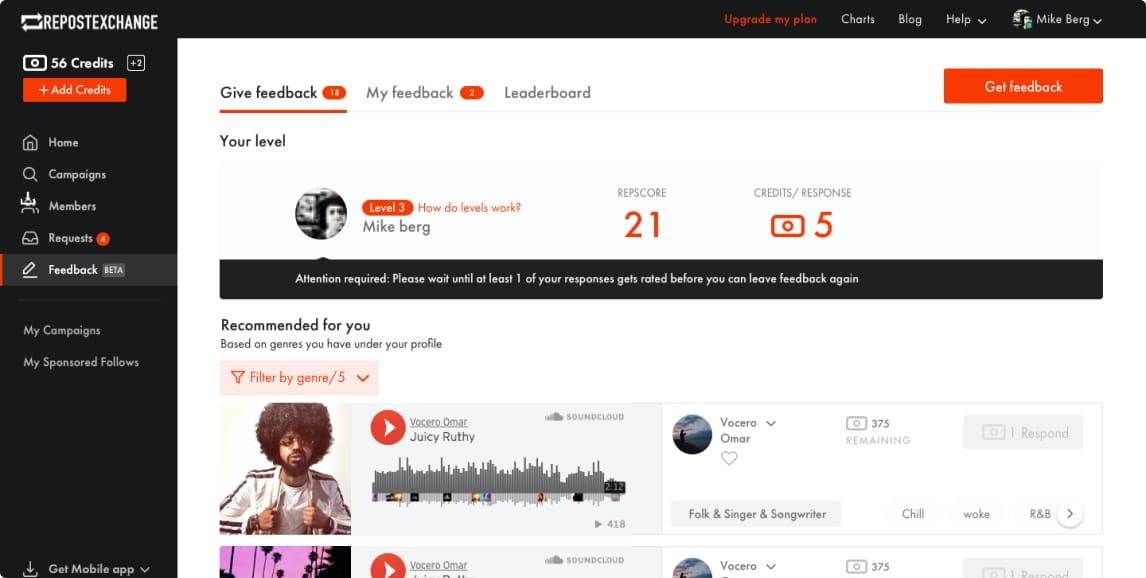 Give feedback & earn credits
Assist other artists with your knowledge and expertise
Earn credits to spend on promo or feedback
Level up your Rep Score and earn more kudos (and credits!)
Join the leaderboards and hall of fame (coming soon!)
Get started
Frequently asked questions
How much does it cost to get Feedback?
All feedback campaigns cost 250 credits during this stage of the BETA test. Different campaign sizes will be available in the future.
When will a Feedback Campaign end?
A feedback campaign will end after one week, when it runs out of credits or if you manually stop it. Unused credits will be refunded.
Can I get feedback on unfinished tracks, snippets or rough mixes?
Yes! Uploads must a be a minimum of 30 seconds, but you are welcome to upload partially finished tracks for feedback. Remember you can choose tracks which are private on your SoundCloud profile.
How many responses will I receive from a 250 credit campaign?
This depends. Responders will take credits from your budget depending on their level. So you might receive 25 responses from Level 4 members (earning 10 credits each). Or 5 responses from Level 6 members (earning 50 credits each). Or most likely from a combination of members with different levels. Feedback from higher level members is likely to be higher quality.
Can anyone else see my feedback?
The only people who can see the feedback left on your track are:
You
Other members who left feedback on your track (but only after they submitted their response)
Responses are NOT posted to SoundCloud
How should I rate feedback?
Be objective and try not to be sensitive. Feedback campaigns are designed for getting honest, constructive criticism. Good quality feedback should be rated highly, even if it is not what you wanted to hear. Equally, if a response is genuinely poor quality or not useful, do not be afraid to leave a low rating. This ensures feedback responders earn an appropriate number of credits based on their knowledge, effort and ability.
Can I get feedback DJ mixes or long tracks?
The maximum track length for Feedback Campaigns is 10 minutes. DJ Mixes are not permitted at this time.
What is the maximum I can earn from Feedback Campaigns?
There is no maximum! But your Level dictates how many unrated responses you can have at any one time. The more credible feedback you give the higher your level will be.
The best way to promote your music, network and grow
Your first 30 credits are on us, to help you get started.
Join 350,000 SoundCloud artists using it today.